Looking for the Best High Chair with Wheels? See, What This Mum Has Picked!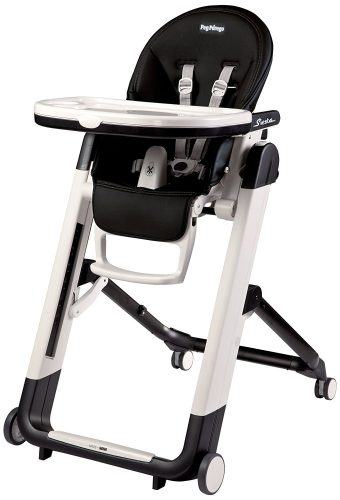 In between the bites of pureed veggie and your little one's finger foods, you wish to have a high chair that you can easily scrub a hundred times without tearing your hair out. I know that all the Mom's are looking for a chair that will make your child comfortable and the cleaning simple. The Peg Perego Siesta is my pick and you too will agree with me in a short while.
Peg Perego Siesta
The European maker is known for creating top-notch and state-of-the-art products. If you need a high chair with wheels that will last for eternity, look no further. Your search is over!
The Siesta is a compact and feature-rich chair with five reclining options, nine height adjustments, and an adjustable footrest with three options. For easy storage, this high chair folds flat and fast. You can have it in six color options.
Graco Blossom
Now that's another popular high chair with wheels by another popular manufacturer. At the first glance, one can think of it as a multi-utility high chair.

Undoubtedly, that is true! But, the problem with this high chair is that you cannot lock the wheels; there is always a fear of your child slipping away. Also, the crotch post is attached to the tray instead of the seat as is the case with Peg Perego Siesta.
♥ it? Check out its latest price, here.
Fisher Price Rainforest
Undeniably, the chair is super cute and comes with a battery operated play toy which lets you carry on your work as your child gets busy with the teether and the play bar.
The crotch restraint is also built in the seat instead of the tray, but the most hitting thing is that the little food pieces get stuck in the hard-to-reach crevices. But, for a bargain price, this is a well-equipped and adjustable high chair with wheels.
OXO Tot Seedling
This JPMA certified high chair with wheels  ensure maximum safety, stability, and balance. With three reclining position support, adjustable tray, and five height settings, it promotes optimal postural support.
The only drawback is that it doesn't have an adjustable footrest. The food tray is also quite heavy and the crevices that fall on are hard to clean. In short, it is a simple high chair that suits all budgets.
For colors and latest price, click here!
Ingenuity Trio 3-in-1 Ridgedale
If you are on a budget, you can conveniently opt for Trio 3-in-1 Ridgedale from Ingenuity. The three-point harness secures the lower part of the child's body. The tray in here is dishwasher safe.
But, if you are looking for a comfortable high chair with wheels, this chair might not be for you because the maneuverability is difficult.